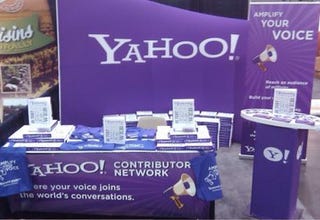 On Monday afternoon, the following email was sent out to all sportswriters on the Yahoo! Contributor Network. It was subsequently forwarded to the BRR by a reader:
Hey everyone,

We're writing you today to let you know about the unfortunate decision that Yahoo Contributor Network will no longer be able to offer Yahoo Sports assignments.

Ray and myself will be leaving the company at the end of the month, and unfortunately there are not enough resources or support to continue publishing content to Yahoo Sports through Yahoo Contributor Network.

We would love to keep your contact information on file in the event that future sports publishing opportunities come up.

First and foremost, we want to let you know that the final date we will accept submissions to Yahoo Sports assignments is Friday, February 21. The temporary Olympics assignments will also continue to be open until that date. After Friday, February 21, we will indefinitely suspend all Yahoo Sports assignments. We will continue to publish submissions to your current Yahoo Sports assignments until that date, as long as they adhere to the assignment guidelines.

You will continue to accrue performance payments for any visits to published Yahoo Sports content, even after we stop accepting new submissions.

Starting immediately we will no longer accept test submissions, even if you already have an existing beat assignment. We will also discontinue the editor picks of the week and any one-off assignments. Concurrently, we will not accept new referrals.

We understand that this difficult decision will have a negative impact on all of our Yahoo Sports contributors, and we sincerely apologize for having to make this announcement. It's been a pleasure reading your submissions and seeing how far this program has come.

Please direct questions or comments to us directly via email at contributor-sports@yahoo-inc.com. We will do our best to get back to you as soon as possible.

Best regards,

James
The BRR submitted multiple press inquiries to no avail.
The "Ray" referenced above is Ray Sobczyk. As I've come to understand through discussions with YCN contributors, he and James Kerley, who composed the email, served as key players in assigning, editing, and approving YCN content published to Yahoo's sports portal.
While it is currently unclear whether or not the duo's departure is a direct consequence of the network downsizing its sports department, it is clear that Yahoo James and Ray experienced frequent editorial hiccups in 2013. The most infamous of which came this past summer through the musings of Adam Waksman, whose piece cited a FrontPage Mag article and drew the ire of a few prominent online publications.
The article would eventually be taken down, but the situation was not an isolated one by any means. The network's lack of proper editorial oversight has also led to emails and calls from incensed, sometimes delusional, PR reps of other sports teams on other occasions as well.
Got a tip? Email me: nosebleedreport@gmail.com